Welcome to Splitit
A completely new way to Pay
There are a few different ways to implement Splitit.
Explore them below and take the tour to discover which option is right for your business.
Hosted Payment Solution
Splitit's Hosted Payment Solution features a full redirect from your site to Splitit's, so it only requires PCI SAQ-A compliance. To use it, you fetch a URL from the Splitit API then send your customer there to enter their credit card data. After the customer is done checking out, they are sent back to URLs of your choice, which you specify in the initial API call (success, cancel, or failure).
Learn more →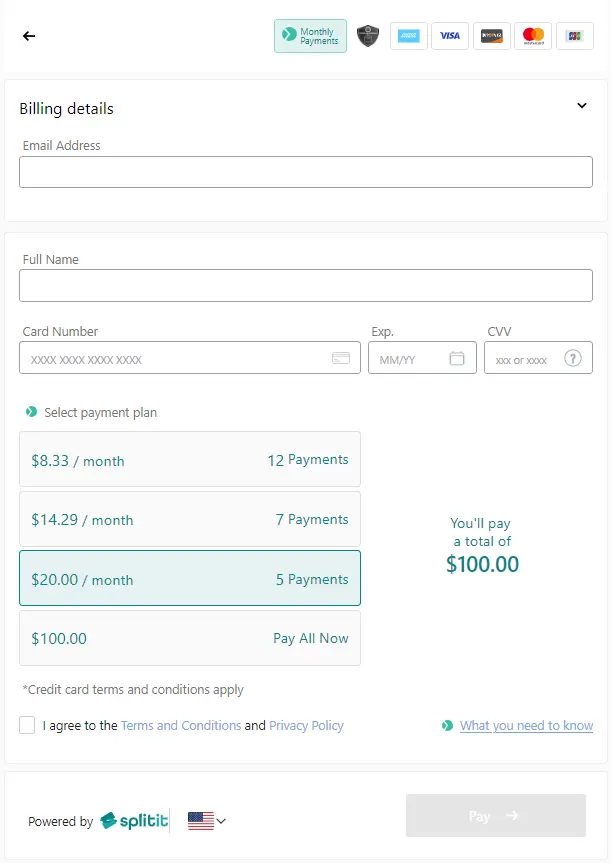 Payment Form Modals
Splitit's Payment Form Modal is an iFrame that is triggered by a customizable Splitit Pay Button, which you add directly into your checkout flow. Once triggered, the Payment Form Modal allows a user to enter credit card information directly and securely, and after they are done, it yields control back to the checkout page, sending either a success or error message.
Learn more →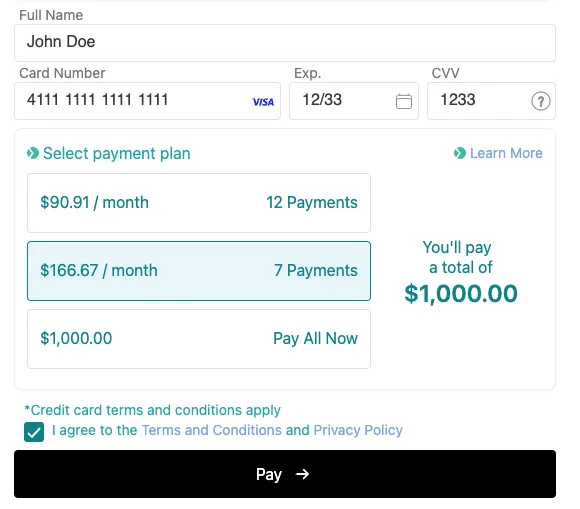 Flex Form
Splitit Flex Form offer predefined templates that allow further customization with CSS. Merchants are able to style and render each component as needed with HTML and CSS to best blend into their existing checkout page. The only required components are the Credit card input, expiration date, CVV, and approval of the T&C.
Learn more →

Upstream Messaging
Splitit installments are proven to increase average order values by over 20%. In order to achieve the highest success, it's important to communicate with your shoppers throughout their online journey. Our upstream messaging provides and easy way for you to do this.
Learn more →
Direct Api
Splitit's Direct API allows you to have full control of the flow and how you implement it. PCI compliance is required.
Learn more →